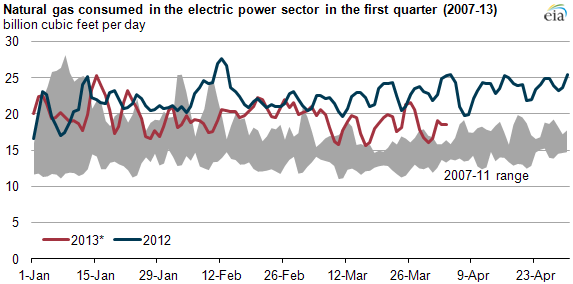 Source: U.S. Energy Information Administration, based on Bentek Energy LLC.
*Note: 2013 data are partially estimated based on pipeline flows.
---
Natural gas used to generate electricity so far this year is below the high level during the comparable 2012 period, when low natural gas prices led to significant displacement of coal by natural gas for power generation. In early 2013, coal recovered some market share as natural gas prices rose. By late March, wholesale natural gas prices at the Henry Hub trading center were back to $4 per million British thermal units (MMBtu). In response, electricity generators used 16% less natural gas this March compared with March 2012.
During the shoulder seasons—the months between the winter heating and summer cooling seasons, covering early spring and late fall—natural gas demand in the electric sector hits a trough. March is the beginning of the shoulder season for much of the country, meaning that natural gas demand for power will likely level out until summer. March 2013 natural gas consumption in the electric power sector averaged almost 3.5 Bcf per day below March 2012, a 16% decrease. This lower volume will likely be maintained for the remainder of the shoulder season, and it may indicate a shift back to more coal-fired power generation.
In deciding whether to dispatch coal or natural gas for electricity, the price of fuel is critical. By late March, wholesale prices for natural gas had risen to $4 per MMBtu or more, a dollar or so higher than a year ago. Reasons for the increase included colder weather than a year ago; a tighter supply and demand balance for natural gas; and natural gas storage levels well below the year-ago level. In the last week of March, natural gas storage fell below its 5-year average volume for this time of year.